Shiori Kazami


Shiori is the secondary Ventus battler of the Earth Division.

Personal data

Real name

Shiori Kazami
Age
9
Gender
Female
Species
Human-vestal
Morality
Good

Living status

Alive

Additional info
Origins

Place of origin

Earth
Ethnicity
Japanese
Nationality
Japanese
Appearance

Hair color

Dark grey-blue

Eye color

Green

Skin color

Peach
Relationships
Father
Shun Kazami
Mother
Ayden Grit
Siblings
Shin and Shizuka
Cousins
Clay and Blaze
Uncle
Ace Grit
Aunt
Mira Fermin
Grandparents
Chihiro Suzuki, Shiori Kazami, Mr. Swemco, Shizuka Grit
Affiliation
Division E
Ace monster
Master Ingram, Shadow Wing
Friends
Soren, Bailey, Chichi
Enemies
Naga, Hairadee, Tayghen, Druman, Centorior
Powers and skills
Attribute
Ventus
Skills
Ninjutsu, agility
Weaknesses
Reckless nature, easily excited

Production notes

Created by

Zephyros-Phoenix

Appearances

Affections Touching Across Dimensions
"
Aw, you're no fun!
– Shiori Kazami
"
Shiori Kazami II (風見 詩織 Kazami Shiori) is a Bakugan: Next Generation character and the daughter of canon character Shun Kazami and fan character Ayden Grit. She is a Ventus battler partnered with Master Ingram and Shadow Wing. She is a member of the Earth Division of the Brawlers.
Physical description
Edit
Shiori is a 9 year old half-human and half-vestal girl and is the daughter of Shun and Ayden. She has her father's signature hair antenna, dark hair in two low pigtails and deep green eyes. She wears a green and purple tunic, grey shorts and matching green and purple boots.
Personality
Edit
Compared to her sister, Shiori is far more confident, outgoing and independent. Despite her personality, she feels uncomfortable without Shizuka around and prefers it when they are together. When battling together, Shiori is usually the one to lead their tag team and come up with the battle plans.
Relationships
Edit
Shiori enjoys messing with her brother and making schemes to get him to play with them.
Shiori cares very much for her twin sister and feels uncomfortable without her around.
Background
Edit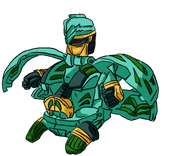 Shiori was born to Shun and Ayden and is the younger sister of
Shin
and older twin sister of
Shizuka
. Shiori did not join the Brawlers until she was 7 years old when she received her Bakugan from her father. She and her sister are still in training for Ninjutsu under the tutelage of their father. When hanging out with the Brawlers, Shiori and Shizuka are often left under the care of the brother, Shin, much to their elation. Shiori is constantly coming up with schemes to get Shin to play with her and Shizuka.
Shiori is named after her paternal grandmother.